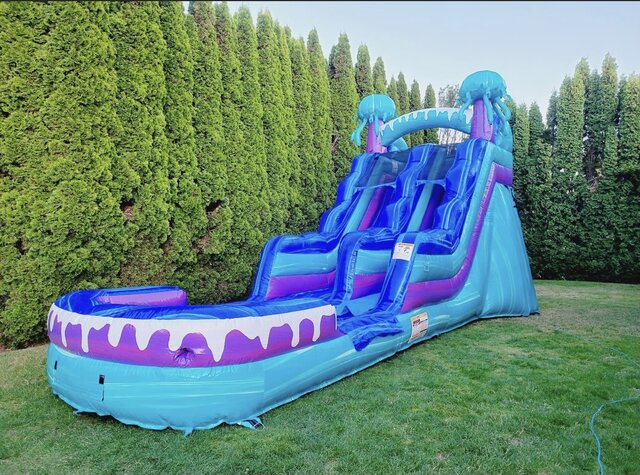 15ft jelly fish water slide




Available Booking Options

| | |
| --- | --- |
| Overnight | $375.00 |
| 3 Days | $562.50 |
| Weekend | $562.50 |



Introducing the ultimate summer fun addition to your backyard - the 15ft Jelly Fish Water Slide! This vibrant and colorful slide is designed to give your kids the ultimate aquatic adventure. The slide features a towering 15ft height and a slippery, smooth surface that ensures a thrilling ride for all ages.
The slide is adorned with a fun jellyfish theme, complete with tentacles and bright colors that will make your kids feel like they're swimming in a magical underwater world. The slide is made of durable, high-quality materials that are built to last, ensuring that your family can enjoy it for years to come.
The 15ft Jelly Fish Water Slide is easy to set up and take down, making it perfect for parties and events. It comes with everything you need to get started, including a powerful blower and sturdy stakes to keep it securely in place.
So why wait? Bring the excitement of the ocean to your backyard with the 15ft Jelly Fish Water Slide and make this summer a splash!
SIZE: Inflated Dimension of 28L x 10W x 15H
CAPACITY: Recommended maximum occupancy of 2
RECOMMENDED AGE: 6 years +